Playtime Pebble
$85.00
If you purchase this product you will earn
8
reward points worth of
$

0.08
!
The Playtime Bouquet Pebble will be sure to delight new parents with a collection of 100% cotton baby basics in our natural Pebbles range and white. Mum and dad can rest assured that baby will be ultra comfortable and super stylish in this selection of designer co-ordinates from Babybuds.
... people are viewing this right now
---
3 white singlets, a beanie in natural, a singletsuit in natural, pair of booties in natural and pair of white socks.
Categories: All, Baby Boy Clothes, Baby Gift Boy, Baby Gift Girl, Baby Girl Clothes, Baby Hampers & Giftbaskets, Baby Shower, Baskets, Boys, Gift Boxes, Gifts, Girls, Hampers, Unisex
Tags: baby boy gift, baby gift, baby gift auckland, baby gift Christchurch, baby gift nz, baby gift Wellington, baby girl clothing, baby girl gift, baby girl hamper, send baby gift
Related Products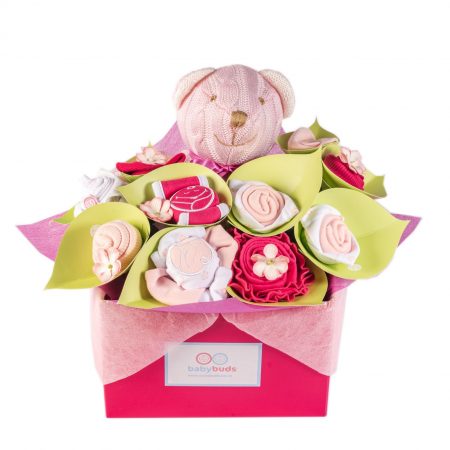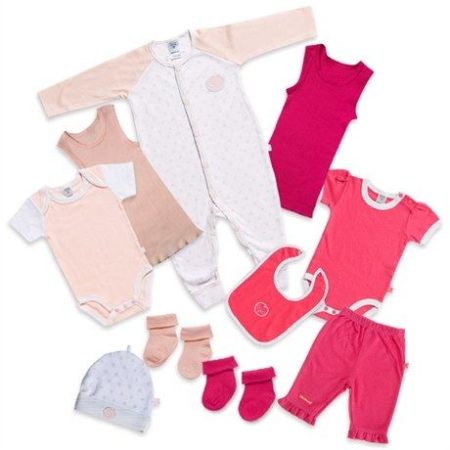 All
,
Baby Gift Girl
,
Baby Girl Clothes
,
Baby Hampers & Giftbaskets
,
Baby Shower
,
Baby Shower Gift Ideas
,
Baskets
,
Bouquets
,
Buckets
,
Clothes
,
Gift Boxes
,
Gifts
,
Girls
,
Hampers
,
Newborn Layettes
Blossoming Bouquet Pink
$

185.00
This large Blossoming bouquet contains an assortment of essential baby clothing for the new baby all wrapped into flower buds, making a unique and practical gift for the new mum and baby.
The blossoming bouquet includes all the essentials for a new born including bodysuit, sleepsuit, pants, singlets, bib, socks and beanie
in a mixture of pastel and bright pink tones, perfect for a newborn little girl up to 6 months.  As an extra feature, this bouquet includes the Babybuds unique "Message Leaves" with lovely messages, as an added sweet surprise for the new parents.